16. An Nahl (The Honey Bee)
Name
The name, An-Nahl, of this Surah has been taken from v. 68. This is merely to distinguish it from other Surahs.
Period of Revelation
The following internal evidence shows that this Surah was revealed during the last Makkan stage of Prophethood:
v. 41 clearly shows that persecution had forced some Muslims to emigrate to Habash before the revelation of this Surah.

It is evident from v. 106 that at that time the persecution of the Muslims was at its height. Therefore a problem had arisen in regard to the utterance of a blasphemous word, without actual disbelief, under unbearable conditions. The problem was that if one did so how he should be treated.

vv. 112-114 clearly refer to the end of seven year famine that had struck Makkah some years after the appointment of the Holy Prophet as Allah's Messenger.

There is a reference to v. 116 of this Surah in VI: 145, and v. 118 of this Surah contains a reference to VI: 146. This is a proof that both these Surahs (VI and XVI) were sent down in the same period.
The general style of the Surah also supports the view that this was revealed during the last stage at Makkah.
Central Theme
All the topics of the Surah revolve round different aspects of the Message, ie., refutation of shirk, proof of Tauhid, and warning of the consequences of the rejection of and opposition and antagonism to the Message.
Topics of Discussion
The very first verse gives direct and strict warning to those who were rejecting the Message outright, as if to say, "Allah's decision has already been made concerning your rejection of the Message. Why are you then clamoring for hastening it? Why don't you make use of the respite that is being given to you!" And this was exactly what the disbelievers of Makkah needed at the time of the revelation of this Surah. For they challenged the Holy Prophet over and over again: "Why don't you bring that scourge with which you have been threatening us! For we have not only rejected your Message but have been openly opposing it for a long time." Such a challenge had become a by-word with them, which they frequently repeated as a clear proof that Muhammad (Allah's peace be upon him) was not a true Prophet.
Immediately after this warning they have been admonished to give up shirk, for this false creed was the main obstacle in the way of the Message. Then the following topics come over and over again, one after the other:
Very convincing proofs of Tauhid and refutation of shirk have been based on the plain signs in the universe and in man's own self.

The objections of the disbelievers have been answered, their arguments refuted, their doubts removed and their false pretexts exposed.

Warnings have given of the consequences of persistence in false ways and antagonism to the Message.

The moral changes which the Message of the Holy Prophet aims to bring practically in human life have been presented briefly in an appealing manner. The mushriks have been told that belief in Allah, which they also professed, demanded that it should not be confined merely to lip service, but this creed should take a definite shape in moral and practical life.

The Holy Prophet and his companions have been comforted and told about the attitude they should adopt in the face of antagonism and persecution by the disbelievers.

In the name of Allah, the Compassionate, the Merciful.


[1-2] Allah's "Judgment" has come: so do not clamor for hastening it; He is free from every defect, and exalted high above the shirk that they are practicing. He sends down by His command through His angels the Spirit on that one of His servants whom He chooses, (bidding), "warn the people that there is no other deity than I. Therefore, fear Me."

[3] He has based the creation of the heavens and the Earth on truth; He is exalted high above that shirk which they are practicing.






[4-9] He created Man from an insignificant sperm-drop, and behold, by and by he became a manifest disputant. He has created cattle, which provide you with clothing and food, and there are other benefits also for you in them; they look pleasant when you drive them to the pasture in the morning and bring them home in the evening. They carry your burdens to far-off lands, which you could not reach without painful toil. Indeed your Lord is All-Compassionate and All-Merciful. He has created horses, mules and donkeys so that you may ride them, and they may add splendor to your life. He creates for you many other things, of which you have no knowledge at all. Allah has taken upon Himself to show the Right Way, when there exist crooked ways too. He would have guided all of you aright, if He had so willed.


[10-11] It is He, Who sends down for you water from the sky, which provides drinking water for you and brings forth fodder for your cattle. And thereby He grows for you crops and olives and date-palms and vines and different kinds of many other fruits. Surely there is a great Sign in this for those people who ponder.


[12-13] He has subjected to your service the day and the night and the sun and the moon: likewise all the stars are subjected by His Command. In this there are many Signs for those who make use of their common sense. And in the things of different colors He has created for you in the Earth, there is indeed a Sign for those who learn lessons from them.

[14] It is He Who has subjected the sea to your service so that you may get fresh flesh from it to eat and bring out of it articles of ornament, which you wear, and you see that the ship sails her course through it. He has done all this so that you may seek of His bounty and show gratitude to Him.


[15-16] He has driven mountains firmly into the earth lest it should turn away from its usual course along with you: He has caused rivers to flow and made natural ways so that you may be directed aright. He has placed landmarks to direct people, and by stars, too, they are directed aright.



[17-19] Is, then, He, Who creates, like those who create nothing? Do you not understand even this much? If you try to reckon up Allah's blessings, you cannot count them. Indeed, He is Forgiving and Compassionate though He knows all that you conceal and all that you reveal.


[20-21] And the other beings, whom the people invoke, create nothing; nay, they are themselves created. They are dead, not living, and they do not know at all when they shall again be raised to life.


[22-23] Your Deity is One Allah, but the hearts of those, who do not believe in the Hereafter, are given to denial, and they are puffed up with pride. Surely Allah has full knowledge of all their deeds, both secret and open. He does not like those people, who are puffed up with pride.



[24-26] And when they are asked, "What is it that your Lord has sent down?" they say these are mere fairy tales of the ancients. They say such things so that they should bear the full brunt of their own burdens on the Day of Resurrection together with some of the burdens of those whom they are leading astray in their ignorance. Behold! what a heavy responsibility they are taking on themselves! Many of those who have gone before them also contrived such cunning devices to defeat the Truth, but behold! Allah smote the edifice of their evil designs at its foundations and its roof fell down upon their heads from above them, and the scourge overtook them from the direction they little dreamed that it would come.


[27-29] Then on the Day of Resurrection Allah will disgrace and degrade them. He will say to them: "Now where are My partners concerning whom you used to dispute (with the truthful)?"Those, to whom Knowledge had been given in the world, will say, "Today there is ignominy and misery for the disbelievers." Yes , this is for those disbelievers, who, while they are still engaged in wronging themselves, shall surrender themselves when seized by the angels, saying, "We were doing nothing wrong at all." The angels will retort, "What, dare you deny this! Allah is fully aware of what you were doing. Now, go and enter the gates of Hell, where you shall abide for ever." The fact is that a very miserable abode it is for the haughty ones.


[30-32] On the other hand, when the God-fearing people are asked, "What is it that has been sent by your Lord?" they say, "It is the best thing that has been sent down." There is good for those righteous people who do good works in this world, and far better is their abode in the Hereafter." Blessed indeed is the dwelling place for the pious people. There will be gardens for their permanent residence into which they will enter: canals will be flowing underneath them: above all, they will find there everything as they would desire: this is the reward for those pious people whose souls are received in a pure state, by the angels, who welcome them, saying, "Peace be on you: enter into Paradise as the reward of your good deeds."


[33-34] O Muhammad! are these people still waiting, though now nothing has been left but that angels should come or your Lord's judgment be passed on them? Many people before them behaved audaciously like them, and had to take the consequence: it was not Allah Who was unjust to them but they were unjust to themselves. In the end their evil deeds brought upon them the consequences and that very thing, they used to scoff at, overwhelmed them.



[35-37] The mushriks say, "Had Allah willed, neither we nor our forefathers would have worshiped any other than Allah nor made anything unlawful without His will." Such excuses were put forward also by those who went before them. Have the Messengers any more responsibility than to convey the Message clearly? Accordingly, we sent to every community a Messenger, saying, "Worship Allah and keep away from the taghut." After that Allah showed guidance to some of them, while deviation took hold of others. So, roam about in the earth and behold what has been the end of the rejectors of the Messengers. O Muhammad! howsoever desirous you may be of their guidance, (know) that Allah does not show guidance to those whom He lets go astray, and such people have no helpers.
[38] They solemnly swear by God with their most sacred oaths that "Allah will never raise him who once is dead".Why will He not raise? It is a promise He has made binding on Himself, but most people do not know it.


[39-40] And It must be fulfilled so that He may reveal to them that thing about which they are differing, and that the disbelievers might know that they were liars. (As regards its possibility.) when We desire to bring a thing into existence, We need only say, "Be", and it is there.


[41-42] As for those, who after persecution, left their homes for the sake of Allah, We will give them a good abode in this world, but the reward in the Next World is far better. Would that those who have borne oppression with fortitude, and are performing their mission with full trust in their Lord, knew (what a happy end awaits them!)


[43-44] O Muhammad! whenever We sent before you Messengers to whom We revealed Our Messages, they were but human beings. You (people of Makkah) may inquire from the people who possess Admonition if you do not know this yourselves. We sent the former Messengers with clear Signs and Books, and now We have sent the Admonition to you (O Muhammad!), so that you should make plain and explain to the people the teachings of the Book which has been sent for them; and so that they (themselves) should ponder over it.



[45-47] What! Do those people, who are practicing evil devices (to oppose the Message), feel fully secure from the danger that Allah will cause them to sink into the earth? Or that He will bring scourge upon them from whence they little suspect that it will come, or that He will seize them all of a sudden while they are roaming about fearlessly, or that He will seize them when they themselves are on the alert about the impending danger? These people have no power to frustrate His plans. The fact is that your Lord is very Lenient and Compassionate.



[48-50] And don't they observe anything created by Allah how it casts its shadow right and left, prostrating itself before Allah? Thus all things express their humility. All the animate creation in the heavens and the earth and all the angels prostrate themselves in adoration before Allah; they do not show any arrogance at all; they fear their Lord Who is above them, and do whatever they are bidden.

[51-52] Allah has enjoined: "You shall not take to yourselves two gods; for He is the only One God: so fear Me." To Allah belongs everything in the heavens and the earth: His way is being followed in the universe. Will you, then, fear any other than Allah?



[53-55] Whatever blessing you enjoy is from Allah alone; then, when you have a hard time, you with your supplications, run to Him for help. But no sooner does He relieve you of your distress than some of you begin to associate others with Him (in gratitude for this favor), to show ingratitude for Allah's favor. Well! you may enjoy yourselves for a while for you shall soon come to know (its consequences.)

[56] These people assign shares from Our provisions to those, of whom they know nothing. By God, you shall most surely be called to account about the falsehood you had forged.

[57] They assign daughters to Allah; praise be to God! as for themselves, they would like to have what they desire.


[58-60] When anyone of them is given the good news of a daughter, his face grows dark after this news and he chokes with inward gloom: he hides himself from people because of this disgrace, asking himself whether he should suffer his daughter with disgrace or bury her alive. What an evil judgment they have about Allah! Bad attributes should be ascribed to those who do not believe in the Hereafter. As regards Allah, all excellences are for Him; for He is the All-Powerful, the All Wise.

[61-62] Had Allah seized people on the spot for their transgression, He would not have left alive any living creature on the Earth: but He respites all for an appointed term. When their appointed time comes, they shall not be able to put it back or forward by a single moment. Yet they assign to Allah what they themselves dislike, and their tongues utter the lie that their lot shall be a fair one anyhow. Nay, only one thing awaits them, and that is the fire of Hell, wherein most certainly they shall be hastened.


[63-64] By God, O Muhammad, We sent Messengers before you to many communities (and it has always been so that) Satan made their evil deeds seem fair to them, (and so they did not believe in the Message). The same Satan has this day become their patron also and they are incurring the most painful punishment. We have sent down this Book to you so that you may reveal to them the reality of the differences in which they are involved. Moreover, this Book has been sent down as guidance for and blessing to those who believe in it.

[65] (In every rainy season you see that) Allah sent down water from heaven, and by it gave life to the earth after it had been dead: indeed there is a Sign in this for those who listen (to the Message).

[66] And surely there is a lesson for you in the cattle: We give you to drink of that which is in their bellies between filth and blood, that is, pure milk, which is very pleasant to those who drink it.

[67] (Likewise) We give you from date-palms and vines a drink from which you derive intoxicants and also pure food: indeed there is a Sign in this for those who make use of their. common sense.


[68-69] And behold! Your Lord has inspired the bee with this "Build thy hive in the mountains, trees and in the creepers over trellises: then drink nectar from every kind of fruit, and follow the ways made smooth by the Lord." From its belly comes out a fluid of varying hues wherein is healing for mankind. Here is indeed a Sign for those people who ponder over it.

[70] And consider this: Allah created you: then He causes your death; and some one from among you is carried on to abject old age so that after knowing all he could, he may no longer have any knowledge of it. The fact is that Allah alone is All-Knowing, All-Powerful.

[71] Consider also this: Allah has favored some of you above others with provisions, but those who have been favored with this, do not give away their provisions to their slaves so that both may become equal in the provision. What! do they then deny to acknowledge Allah's favor?



[72-74] It is Allah alone, Who has made wives for you from your own species and He alone bestowed upon you sons and grandsons from those wives, and provided you with good things to eat. What, do they then (even after seeing and knowing all this,) believe in falsehood, and deny Allah's favors and, instead of Allah, worship those who do not provide them with anything from the heavens or the earth, nor have any power to do so? Make no comparisons, therefore, with Allah. Allah knows but you do not know.

[75] Allah cites a similitude (of two men): one of them is a slave, who is owned by another and has no power over anything. There is the other man whom We Ourselves have provided with a fair provision from which he freely spends openly and secretly. (Ask them): "Are these two men equal?"May God be praised! But most people do not understand (this simple thing).

[76] Allah cites another similitude of two men. One of them is dumb and deaf and cannot do any work, and has become a burden upon his master; wherever he dispatches him, he does nothing useful. There is the other one, who enjoins justice and follows the Right Way. (Ask them): "Are these two men equal?"

[77] Allah alone has the knowledge of all the "unknown" things of the heavens and the earth. As regards the coming of the Resurrection, it will not take more time than is taken in the twinkling of an eye rather less than this; the fact is that Allah has power over all things.

[78] Allah brought you out of your mothers' wombs in this state that you knew nothing: He gave you ears and eyes and thinking minds so that you may be grateful.

[79] Have they never observed how the birds are poised in the vault of heaven? Who holds them up but Allah? There are many Signs in this for those people who believe.

[80] Allah has made your homes places of rest and peace for you: and from the skins of cattle He has made for you houses which you find light during your journey and at the time of your halt. And from their soft fur and wool and hair, He has furnished you with many things for clothing and domestic service which are very useful to you during your prescribed term of life.



[81-83] Allah has made for you from the many things He has created shelter from the sun. He has created for you places of refuge in the mountains and blessed you with such garments as protect you from heat and garments which shield you in your fights. Thus He perfects His blessings on you, so that you should submit to Him. But if they give no heed to you, O Muhammad! (you need not worry) for your only responsibility is to convey the plain Message of truth. They recognize the blessing of Allah, yet they deny it, for the majority of them are not inclined to accept the Truth.





[84-88] (Do they realize what will happen) on the Day when We shall raise up a witness from every community? Then the disbelievers shall not be given any opportunity to put forward any excuses nor shall they be asked to show penitence. When once the transgressors will see the torment, their punishment shall neither be lightened for them after this nor shall any respite be given to them. When the people, who had committed shirk in this world, will see those whom they had made associates with Allah, they will say, "Our Lord! here are those associate-deities whom we used to invoke beside Thee". At this their deities will retort, "You are liars." At that time all of them will proffer submission before Allah and all they used to forge in this world shall vanish from them. We will inflict double torment on those who followed the way of disbelief and hindered others from the Way of Allah on account of the chaos they spread in this world.
[89] (O Muhammad, warn them of) the Day when We shall call a witness from among every community to testify against it. And We shall call you to testify against these people; (that is why) We have sent down .to you this Book which makes plain everything and is guidance, blessing and good news to those who have surrendered themselves entirely.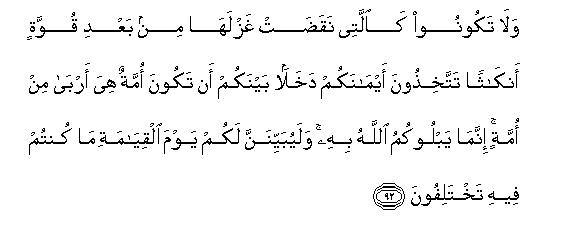 [90-93] Allah enjoins justice, generosity and kind treatment with kindred, and forbids indecency, wickedness and oppression. He admonishes you so that you may learn a lesson. Fulfill your covenant with Allah when you have made a Covenant with Him, and do not break your oaths after they have been confirmed and you have made Allah your witness. Allah is fully aware of all your actions. Do not behave like that woman who had spun yarn laboriously and then had herself broken it into pieces. You make your mutual oaths a means of mutual deceit in your affairs so that one people might take undue advantage over the other whereas Allah puts you to trial by these pledges. Allah will certainly reveal to you the truth about all your differences on the Day of Resurrection. Had Allah so willed (that you may not have any differences,) He would have made you all a single community, but He leads astray whom He will and shows guidance to whom He will. And be sure that He will take you to account for all your doings.

[94] And (O Muslims,) do not make your oaths the means of deceiving one another lest (someone's) foot should slip after being firmly fixed and you may suffer the consequences of debarring other people from the Way of Allah, and undergo a severe torment.



[95-97] Do not barter away the Covenant of Allah for paltry gains: Indeed what is with Allah is far better for you if you knew it. Whatever is with you is transitory and whatever is with Allah is ever-lasting. And We will reward those, who practice fortitude according to their best deeds. Whosoever does righteous deeds, whether male or female, provided he is a Believer, We will surely grant him live a pure life in this world. And We will reward such people (in the Hereafter) according to their best deeds.



[98-100] Then, when you begin to recite the Qur'an, seek Allah's refuge against the accursed Satan, for no power has he over those who believe and put their trust in their Lord; he has power only over those who make him their patron and practice shirk by his temptation.


[101-102] And when We send down one verse to elaborate upon the other-and Allah knows best what to send down, they say, "You forge this Qur'an yourself." The fact is that most of them do not know the reality. Tell them, "The Holy Spirit has brought it down piecemeal intact from my Lord so that He may make firm the faith of those who have believed, and to show the Right Way, and to give good news to those who surrender themselves to Allah."



[103-105] We know very well what they say about you: "Surely a certain person teaches him." But the person to whom they allude speaks a foreign tongue, and this (Qur'an) is in plain Arabic. It is a fact that Allah does not show guidance to those who do not believe in His Revelations, and there is a painful torment for them. (The Prophet is not forging any false thing but) those, who do not believe in the Revelations of Allah, are inventing falsehoods they are indeed the liars.




[106-109] Whoso is forced to disbelieve after believing, while his heart is convinced of the Faith, (he shall be absolved) but whosoever accepts disbelief willingly, he incurs Allah's wrath, and there is severe torment for all such people. This is because they preferred the life of this world to the life in the Hereafter, and Allah does not show the Way of salvation to those people who are ungrateful! Allah has sealed the hearts, the ears and the eyes of such people and they have become neglectful: therefore, it is inevitable that they should be losers in the Hereafter.


[110-111] On the other hand, Allah is most surely Forgiving and Compassionate towards those people who, when they were persecuted (because of their Faith), left their homes and migrated and struggled hard in the Way of Allah and practiced fortitude. (All these will be judged) on the bay when everyone will be pleading for himself only and everyone will be recompensed fully for one's deeds and none shall be unjustly dealt with in the least.


[112-113] Allah cites the instance of a habitation: it was enjoying a life of peace and security and was receiving its provisions in abundance from every quarter. Hut when it began to show ingratitude towards the favors of Allah, He made its inhabitants taste the consequences of their doings, and inflicted misfortunes of hunger and fear on them. A Messenger came to them from among themselves but they treated him as an impostor. At last a torment overtook them while they had become guilty of iniquity.




[114-117] So, O people, eat of the lawful and pure provisions with which Allah has blessed you and show gratitude to Allah for His favors, if you are sincerely obedient to Him. Allah has forbidden only these things: do not eat what dies of itself nor blood nor swine flesh nor what has been slaughtered in any name other than Allah. But if forced by hunger one eats of any of these forbidden things, provided he has no intention of breaking the Divine Law or of transgressing the limits by taking more than what is absolutely indispensable, one may expect mercy, for Allah is very Forgiving and very Compassionate. Do not ascribe lies to Allah by decreeing with your tongues, "This is lawful and that is unlawful" for those people who ascribe lies to Allah can never come to any good. (They should remember that) the pleasures of this world are transitory and in the end there is a painful torment for them.







[118-124] To the Jews We had especially forbidden the things We have already related to you, and it was not We who imposed this hardship on them, but they imposed the hardship themselves. Nevertheless, your Lord is Forgiving and Compassionate towards those who have repented and mended their ways after they had committed evil in ignorance. The fact is that Abraham was a community in himself: he was obedient to Allah and had turned to Him exclusively. He was never a mushrik. he was always grateful for Allah's favors. Accordingly Allah chose him and showed him the Right Way. Allah blessed him with goodness in this world and most surely he will be among the righteous in the Hereafter. Then We sent down this Revelation to you: "Follow the way of Abraham exclusively" and he was not one of the mushriks. As regards the Sabbath, We imposed this on those who differed about its observance. Surely your Lord will decide between them on the Day of Resurrection about all those things in which they have been differing.



[125-128] O Prophet invite to the way of your Lord with wisdom and excellent admonition and discuss things with people in the best manner. Your Lord knows best who has gone astray from His Way and He knows best who is rightly guided. And if you retaliate, let your retaliation be to the extent that you were wronged, but if you endure it with patience, it is indeed best for those who endure with patience. O Muhammad, go on performing your mission with fortitude-and you can practice fortitude only with the help of Allah-do not be grieved at their doings and do not distress yourself at their intrigues, for Allah is with those people who fear Him and adopt the righteous attitude.