39. Surah Az Zumar (The Troops)
Name
The Surah derives its name from verse 71 and 73 in which the word zumar has occurred.
Period of Revelation
In verse 10 (wa ardullah-i-wasi atun: and Allah's earth is vast) there is abundant evidence that this Surah was sent down before the migration to Habash. Some traditions provide the explanation that this verse was sent down in respect of Hadrat Ja'far bin Abi Talib and his companions when they made up their mind to emigrate to Habash.(Ruh al-Maani, vol. XXII, p. 226).
Theme and Subject matter
The entire Surah is a most eloquent and effective address which was given some time before the emigration to Habash, in an environment filled with tyranny and persecution, ill-will and antagonism, at Makkah. It is a sermon whose addressees mainly are the unbelieving Quraish, although here and there the believers also have been addressed. In it the real aim of the invitation of Muhammad (upon whom be Allah's peace and blessings) had been enunciated, which is this:Man should adopt Allah's servitude sincerely, and should not pollute his God worship with the service of any other. Presenting this cardinal principle in different ways over and over again, the truth of Tauhid and the excellent results of accepting it, and the falsehood of shirk and the evil consequences of following it, have been explained in a most forceful way, and the people exhorted to give up their wrong way of life and return to the mercy of their Lord. In this very connection, the believers have been instructed, as if to say:"If a place has become narrow for the worship and service of Allah, His earth is vast: you may emigrate to some other place in order to save your faith: Allah will reward you for your patience."On the other hand, the Holy Prophet has been encouraged, so as to say:"Tell the disbelievers plainly that they may do whatever they like, but their persecutions and tyrannies will never deter you from the way of Islam; that they may go on doing their worst to obstruct your way, but you will continue to perform your mission in spite of the adverse conditions and circumstances."

In the name of Allah, the Compassionate, the Merciful.
[1] The revelation of this Book is from the All-Mighty, the All-Wise Allah.


[2-3] (O Muhammad,) We have sent down this Book to you with the truth, so worship Allah alone, making your religion His exclusively. Beware! Religion is exclusively Allah's right. As for those who have taken other guardians besides Him (and justify their conduct, saying): "We worship them only that they may bring us closer to Allah." Allah will surely judge between them concerning all that in which they differ. Allah does not show guidance to any liar and denier of the truth.



[4-6] Had Allah willed to take a son, He would have chosen anyone He pleased out of His creation. Glorified is He (that He should have a son)! He is Allah, the One, the Omnipotent. He has created the heavens and the earth with the truth. He it is Who wraps the night about the day and the day about the night . He has so subjected the sun and the moon that each is moving till an appointed time. Note it well: He is the All-Mighty, the All-Forgiving. It is He Who created you from a single being, then from that being He created its mate, and it is He Who created for you eight heads of cattle, male and female. He shapes you in your mothers' wombs, giving you one form after the other, under three dark veils. This same Allah (Whose works are these) is your Lord Sovereignty is His. There is no god but He. Whence are you, then, being turned away?

[7] If you disbelieve, Allah is independent of you. Yet He does not approve of disbelief for His servants. And if you are thankful, He approves it for you. No bearer will bear the burden of another. Ultimately, all of you have to return to your Lord. Then He will tell you what You have been doing. He knows even the secrets of the hearts.


[8-9] When an affliction befalls man, he calls upon his Lord, turning to Him (in penitence). Then, when his Lord blesses him with his favor, he forgets the affliction for which he was calling upon Him before, and sets up others as equals with Allah, to lead astray from His way. (O Prophet,) Tell him; "Enjoy your disbelief for a while: you shall certainly go to Hell." (Whose conduct is better, this man or the man) who is obedient, who passes the hours of night standing and prostrating (in worship), and who dreads the Hereafter and hopes for the mercy of his Lord? Ask them, "Can those who know and those who do not know ever be equal?" Only men of understanding do accept the admonition.

[10] (O Prophet: ) Say, "O My servants, who have believed, fear your Lord. There is good for those who have adopted the righteous attitude in this world, and God's earth is vast. Those who endure with patience shall be rewarded without measure."








[11-18] (O Prophet,) say to them, "I have been commanded to serve Allah, making religion sincerely His, and I have been commanded to be a Muslim myself first of all." Say, "If I disobey my Lord, I fear the torment of a dreadful Day." Say, "I shall serve Allah alone, making my religion sincerely His. As for you, you may serve whomever you please besides Him." Say, "The real losers are those who would risk loss for themselves and for their families on the Day of Resurrection." Note it well: this is the real bankruptcy. They shall have the canopies of fire covering them from above them and also from beneath them. This is the doom of which Allah frightens His servants. So, O My servants, avoid My wrath. Contrary to this, those who refrained from serving taghut and turned to Allah, for them there is good news. So (O Prophet,) give good news to those of My servants who listen to the word carefully and follow what is best in it. These are they whom Allah has shown guidance and these are the ones who possess understanding.


[19-20] (O Prophet,) who can protect the person for whom the torment has already been decreed? Can you rescue him who has already fallen into the fire? Of course, those who truly feared their Lord, for them there are high mansions, built with story upon story, beneath which there will be canals flowing. This is Allah's promise: Allah never fails in His promise.


[21-22] Do you not see that Allah sent down rainwater from the sky, then made it to flow in the earth in the form of springs and fountains and rivers, then He brings forth thereby a variety of crops of different kinds; then they ripen and wither and you see them turn yellow, and then, finally, He reduces them to straw? Indeed, there is a lesson in this for the men of understanding. Now, can the person whose breast Allah has opened for Islam and he is walking in the light shown by his Lord(be like the one who has learned no lesson from these things)? Woe to those whose hearts became even more hardened from Allah's admonition! They are in manifest error.

[23] Allah has sent down the best of discourses, a Book all whose parts are uniform in style and whose themes have been repeated over and over again. Those who fear their Lord are filled with awe when they hear it, and then their bodies and their hearts soften and turn to the remembrance of Allah. This is Allah's guidance, whereby He guides to the Right Way whomever He wills; and the one whom Allah does not guide has no guide whatever.



[24-26] Now, how can you imagine the plight of the one who will receive the severe punishment of the Day of Resurrection on his face? To such wrongdoers it will be said, "Taste now (the fruit of) what you had been earning." Many a people before them also denied likewise. Consequently, the scourge overtook them from whence they least expected. Then Allah made them to taste disgrace even in their worldly life, but the punishment of the Hereafter is far more terrible. Would that they knew it!








[27-35] We have cited for the people in this Qur'an every kind of parable, so that they may take heed. It is a Qur'an in Arabic without any crookedness in it, so that they may guard against the evil end. Allah cites a parable: There is a man who is shared by many harsh masters, each pulling him to himself, and there is the other man who entirely belongs to one master. Can the two be alike in comparison? Praise be to Allah! But most of the people have no knowledge. (O Prophet,) you shall die, and they, too, shall die. Then on the Day of Resurrection, you all will present your disputes before your Lord. Then, who could be more wicked than the one who invented a falsehood against Allah, and denied the Truth when it came before him? Is not there in Hell a place for such disbelievers? And the one who came with the Truth, and those who confirmed it, they indeed shall remain secure from the torment. They shall get from their Lord whatever they will desire. This is the compensation of those who do right, so that Allah may wipe off from their account their worst deeds and reward them according to their best deeds.






[36-41] (O Prophet: ) Is not Allah enough for His servant? These people frighten you with others besides Him, whereas there is none to guide him whom Allah lets go astray, and there is none to misguide him whom He guides aright. Is not Allah Mighty and capable of revenge? If you ask them, "Who created the heavens and the earth?" they will say, "Allah." Ask them, "When the fact is this, do you think that if Allah wills harm for me, these goddesses, whom you invoke instead of Allah, will avert His harm from me? Or, if Allah wills to show me mercy, will they be able to withhold His mercy?" Therefore, tell them, "Allah is enough for me. In Him do those who trust place their trust." Tell them plainly, "O my people: Do whatever you can, so shall I. Soon you shall come to know as to whom comes the disgraceful torment and who gets the enduring punishment." (O Prophet:) We have sent down to you for all mankind this Book with the truth. Now whosoever adopts the right way, will do so for his own sake, and whosoever goes astray, will himself bear the burden of his deviation: you are not responsible for them.



[42-44] It is Allah Who takes the souls at death and the soul of the one, who has not yet died, during sleep. Then He withholds that for whom He decrees death and restores the souls of others till an appointed time. In this there are many signs for the people who reflect. What! Have they taken besides Allah others as intercessors? Say to them, "Will they intercede even if they have no power whatever nor understanding?" Say, "Intercession is wholly in the power of Allah. His is the Kingdom of the heavens and the earth. Then, to Him you will be returned."



[45-48] When Allah alone is mentioned, the hearts of those who do not believe in the Hereafter, are filled with anguish; but when others beside Him are mentioned, they are at once filled with joy. Say, "O God! Creator of the heavens and the earth, Knower of the unseen and the seen! You alone shall judge between Your servants concerning that in which they have been differing." Even if the wicked people possessed all the wealth of the earth, and as much more, they would be prepared to offer it all as ransom to escape the terrible punishment of the Day of Resurrection; yet from Allah there would appear before them that which they would never have imagined. There, all the evil results of their deeds shall become manifest to them, and the same which they had been mocking shall encompass them completely.




[49-52] Man is such that when a little affliction touches him, he calls upon Us, and when We bestow Our favor on him, he says, "I have been given this because of my knowledge!" Nay, it is a trial, but most of them do not know. The same was said also by those who went before them, but whatever they earned did not avail them anything. So, they met the evil consequences of their deeds, and the wicked ones among these people, too, shall soon meet the evil consequences of their deeds. They cannot frustrate Us. And do they not know that Allah provides abundantly for whom He wills and sparingly for whom He wills? In this there are signs for those who believe.








[53-61] (O Prophet,) say, "O My servants, who have wronged their own souls: Do not despair of Allah's mercy: surely Allah forgives all sins: He is the All-Forgiving, the All-Merciful. Return to your Lord and submit to Him before the scourge overtakes you, and then you may get no help from anywhere. And follow the best aspect of the Book sent down by your Lord, before the scourge comes down upon you suddenly while you are unaware, lest afterwards someone should say, "Alas for the negligence (in duty) I showed towards Allah! Indeed, I was among those who mocked." Or: "Would that Allah had shown me guidance so that I too would have been among the righteous!" Or, when he sees the torment: "Would that I could get another chance so that I also should be among the doers of good!" (And then he should get this answer:) "Why not! My Revelations did come to you; then you denied them, and showed arrogance, and you were among the disbelievers." You will see that on the Day of Resurrection the faces of those who have invented falsehoods against Allah, will be blackened. Is not there in Hell enough room for the arrogant? On the contrary, those who have adopted righteousness here, Allah will rescue them because of their means of success. No evil shall touch them nor will they grieve.




[62-66] Allah is the Creator of everything and over every thing He is the Guardian. To Him belong the keys of the treasures of the heavens and the earth; and the losers are only those who disbelieve His Revelations. (O Prophet,) say to them, "Ignorant people! Do you bid me worship others than Allah?" (Tell them plainly this because) the Revelation sent to you and to all the Prophets before you has been this: `If you commit shirk, all your works will be rendered vain and you will be among the losers." Therefore, (O Prophet), you should worship only Allah and be among His grateful servants.




[67-70] These people have not recognized the true worth of Allah as His worth should truly be recognized. (As for His Omnipotence) the entire earth on the Day of Resurrection shall be in His grasp and the heavens shall be rolled up in His right hand. Glorified is He and Exalted above what they associate with Him. And the Trumpet shall be blown on that Day and all those who are in the heavens and the earth shall fall down dead except those whom Allah may allow to live. Then the Trumpet shall be blown again and they will all stand up, looking around.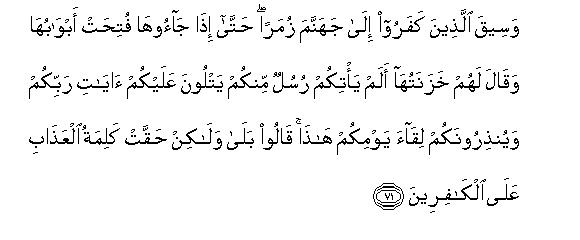 [71-75] The earth will shine forth with the light of her Lord and the conduct book will be laid open, and the Prophets and the witnesses shall be brought in, and the people shall be judged with full justice, and none shall be wronged. And every living being shall be recompensed fully for whatever it had done. Allah knows full well what the people do. (After this Judgment) those who had disbelieved, shall be driven towards Hell, in groups, till, when they have reached there, its gates will be opened, and its keepers will say to them, "Did not Messengers come to you from among yourselves, who recited to you the Revelations of your Lord, and warned you that you shall have to encounter this Day?" They will reply, "Yes, they did come, but the sentence of punishment proved true against the disbelievers." It will be said, "Enter the gates of Hell, to dwell therein for ever. What an evil abode for the arrogant! " And those who had refrained from the disobedience of their Lord shall be led towards Paradise, in groups, till, when they arrive there, and its gates shall already have been opened, its keepers will say, Peace be upon you: you have fared well. Enter herein to dwell for every" And they will say, "Praise is for Allah, Who has proved true to us His promise and made us heirs of the earth. Now we can dwell in Paradise wherever we like. How excellent a reward for the virtuous! And you will see the angels circling around the Throne, glorifying their Lord with His praises; and the people shall be judged with full justice, and it will be proclaimed: "Praise is for Allah; Lord of the worlds!"