6. Surah Al Anaam (The Cattle)
Name
This Surah takes its name from vv. 136, 138 and 139 in which some superstitious beliefs of the idolatrous Arabs concerning the lawfulness of some cattle (an`am) and the unlawfulness of some others have been refuted.
Period of Revelation
According to a tradition of Ibn Abbas, the whole of the Surah was revealed at one sitting at Makkah. Asma, a daughter of Yazid and a first cousin of Hadrat Mu'az-bin Jabl, says, "During the revelation of this Surah, the Holy Prophet was riding on a she-camel and I was holding her nose-string. The she-camel began to feel the weight so heavily that it seemed as if her bones would break under it." We also learn from other traditions that the Holy Prophet dictated the whole of the Surah the same night that it was revealed.
Its subject-matter clearly shows that it must have been revealed during the last year of the Holy Prophet's life at Makkah. The tradition of Asma, daughter of Yazid, also confirms this. As she belonged to the Ansar and embraced Islam after the migration of the Holy Prophet to Yathrib, her visit to the Holy Prophet at Makkah must have taken place during the last year of his life there. For before this, his relations with those people were not so intimate that a woman from there might have come to visit him at Makkah.
Occasion of Revelation
After determining the period of its revelation, it is easier to visualize the background of the Surah. Twelve years had passed since the Holy Prophet had been inviting the people to Islam. The antagonism and persecution by the Quraish had become most savage and brutal, and the majority of the Muslims had to leave their homes and migrate to Habash (Abyssinia). Above all, the two great supporters of the Holy Prophet. Abu Talib and Hadrat Khadijah, were no more to help and give strength to him. Thus he was deprived of all the worldly support. But in spite of this, he carried on his mission in the teeth of opposition. As a result of this, on the one hand, all the good people of Makkah and the surrounding clans gradually began to accept Islam ; on the other hand, the community as a whole, was bent upon obduracy and rejection. Therefore, if anyone showed any inclination towards Islam, he was subjected to taunts and derision, physical violence and social boycott. It was in these dark circumstances that a ray of hope gleamed from Yathrib, where Islam began to spread freely by the efforts of some influential people of Aus and Khazraj, who had embraced Islam at Makkah. This was a humble beginning in the march of Islam towards success and none could foresee at that time the great potentialities that lay hidden in it. For, to a casual observer, it appeared at that time as if Islam was merely a weak movement it had no material backing except the meager support of the Prophet's own family and of the few poor adherents of the Movement. Obviously the latter could not give much help because they themselves had been cast out by their own people who had become their enemies and were persecuting them.
Topics
These were the conditions, when this discourse was revealed. The main topics dealt with in this discourse may be divided under seven headings:
Refutation of shirk and invitation to the creed of Tauhid.

Enunciation of the doctrine of the "Life-after- death." and refutation of the wrong notion that there was nothing beyond this worldly life.

Refutation of the prevalent superstitions.

Enunciation of the fundamental moral principles for the building up of the Islamic Society.

Answers to the objections raised against the person of the Holy Prophet and his mission.

Comfort and encouragement to the Holy Prophet and his followers who were at, that time in a state of anxiety and despondency because of the apparent failure of the mission.

Admonition, warning and threats to the disbelievers and opponents to give up their apathy and haughtiness. It must, however, be noted that the above topics have not been dealt with one by one under separate headings, but the discourse goes on as a continuous whole and these topics come under discussion over and over again in new and different ways.
The Background of Makki Surahs
As this is the first long Makki Surah in the order of the compilation of the Quran, it will be useful to explain the historical background of Makki Surahs in general, so that the reader may easily understand the Makki Surahs and our references to its different stages in connection with our commentary on them.
First of all, it should be noted that comparatively very little material is available in regard to the background of the revelation of Makki Surahs whereas the period of the revelation of all the Madani Surahs is known or can be determined with a little effort. There are authentic traditions even in regard to the occasions of the revelation of the majority of the verses. On the other hand, we do not have such detailed information regarding the Makki Surahs. There are only a few Surahs and verses which have authentic traditions concerning the time and occasion of their revelation. This is because the history of the Makki period had not been compiled in such detail as that of the Madani period. Therefore we have to depend on the internal evidence of these Surahs for determining the period of their revelation: for example, the topics they discuss, their subject. matter, their style and the direct or indirect references to the events and the occasions of their revelation. Thus it is obvious that with the help of such evidence as this, we cannot say with precision that such and such Surah or verse was revealed on such and such an occasion. The most we can do is to compare the internal evidence of a Surah with the events of the life of the Holy Prophet at Makkah, and then come to a more or less correct conclusion as to what particular stage a certain Surah belongs.
If we keep the above things in view, the history of the mission of the Holy Prophet at Makkah can be divided into four stages.
The first stage began with his appointment as a Messenger and ended with the proclamation of Prophethood three years later. During this period the Message was given secretly to some selected persons only, but the common people of Makkah were not aware of it.
The second stage lasted for two years after the proclamation of his Prophethood. It began with opposition by individuals: then by and by, it took the shape of antagonism, ridicule, derision,, accusation, abuse, and false propaganda then gangs were formed to persecute those Muslims who were comparatively poor, weak' and helpless.
The third stage lasted for about six years from the beginning of the persecution to the death of Abu Talib and Hadrat Khadijah in the tenth year of Prophethood. During this period, the persecution of the Muslims became' so savage and brutal that many of them were forced to migrate to Habash. Social and economic boycott was applied against the Holy Prophet and the members of his family, and those Muslims who continued to stay in Makkah were forced to take refuge in Shi'b-i-A'bi Talib which was besieged.
The fourth stage lasted for about three years from the tenth to the thirteenth year of Prophethood. This was a period of hard trials and grievous sufferings for the Holy Prophet and his followers. Life had become unendurable at Makkah and there appeared to be no place of refuge even outside it. So much so that when the Holy Prophet went to Ta'if, it offered no shelter or protection. Besides this, on the occasion of Haj, he would appeal to each and every Arab clan to accept his invitation to Islam but met with blank refusal from every quarter. At the same time, the people of Makkah were holding counsels' to get rid of him by killing or imprisoning or banishing him from their city. It was at that most critical time that Allah opened for Islam the hearts of the Ansar of Yathrab where he migrated at their invitation.
Now that we have divided the life of the Holy Prophet at Makkah into four stages, it has become easier for us to tell, as far as possible, the particular stage in which a certain Makki Sarah was revealed. This is because the Surahs belonging to a particular stage can be distinguished from those of the other stages with the help of their subject matter and style. Besides this, they also contain such references as throw light on the circumstances and events that form the background of their revelation. In the succeeding Makki Surahs, we will determine on the basis of the distinctive features of each stage, and point out in the Preface, the particular stage in which a certain Makki Surah was revealed.
Subject :Islamic Creed.
This Surah mainly discusses the different aspects of the major articles of the Islamic Creed: Tauhid, Life-after-death, Prophethood and their practical application to human life. Side by side with this, it refutes the erroneous beliefs of the "opponents and answers their objections, warns and admonishes them and comforts the Holy Prophet and his followers, who were then suffering from persecution.
Of course, these themes have not been dealt with under separate heads but have been blended in an excellent manner.
Topics and their Interconnection
These verses are of introductory and admonitory nature. The disbelievers have been warned that if they do not accept the Islamic Creed and follow the 'Light' shown by the Revelation from the All-Knowing and All-Powerful Allah, they would go to the same doom as the former disbelievers did. Their arguments for rejecting the Prophet and the Revelation sent down to him have been refuted and a warning has been given to them that they should not be deluded by the respite that is being granted to them. 1 - 12
These verses inculcate Tauhid, and refute shirk which is the greatest obstacle in the way of its acceptance. 13 - 24
In these verses, a graphic scene of the life in the Hereafter has been depicted in order to warn the disbelievers of the consequences of the rejection of the Articles of Faith. 25 - 32
Prophethood is the main theme which has been discussed from the point of view of the Holy Prophet, his Mission, the limitations of his powers, the attitude towards his followers and also from the point of view of the disbelievers. 33 - 73
In continuation of the same theme, the story of Prophet Abraham has been related to bring home to the pagan Arabs that the Mission of Prophet Muhammad, which they were opposing, was the same as that of Prophet Abraham (Allah's peace be upon them). This line of argument was adopted because they considered themselves to be his followers, especially the Quraish who were proud of being his descendants as well. 74 - 90
Another proof of his Prophethood is the Book, which has been sent down to him by Allah, for its teachings show the right guidance in regard to creed and practice. 91 - 108
Divine restrictions have been contrasted with the superstitious restrictions of the pagan Arabs in order to show the striking differences between the two and thus prove the Quran to be a Revealed Book. 109 - 154
The Jews, who were criticized in vv. 144 - 147 along with the pagan Arabs, have been urged to compare the teachings of the Quran with those of the Torah so that they might recognize their similarity and give up their lame excuses against it, and adopt its Guidance to escape the retribution on the Day of Resurrection. 155 - 160
This is the conclusion of the discourse: the Holy Prophet has been instructed in a beautiful and forceful manner to proclaim fearlessly the articles of the Islamic Creed and their implications. 161 - 165

In the name of Allah, the Compassionate, the Merciful.



[1-3] Praise is only for Allah, Who created the heavens and the earth and ordained light and many kinds of darkness; in spite of this, those who have rejected the Message of their Lord have set up equal partners with Him It is He Who has created you from earth and decreed a fixed term of life for you, and with Him there is another settled term also yet you have doubts thereof. He is the same One Allah in the heavens as well as on the earth: He knows all that you make known and all that you keep secret and is fully aware of the good or evil that you earn.



[4-6] Yet the reaction of the people has been that whenever a Sign from the Signs of their Lord has come to them, they have turned away from it: accordingly, they have rejected as false the Truth that has come to them now. Well, they will receive some news about what they have been ridiculing so far. Do they not see that We destroyed before them many a people who were dominant in the world during their time? We had given them such power in the land as We have not given you. We sent down for them abundant rains from heavens and made canals flow beneath them. But (when they showed ingratitude), We destroyed them because of their sins and raised up other people in their place.



[7-9] O Messenger, even if We had sent down to you a Book written on paper, and even if they had touched it with their own hands, the disbelievers would have said, "This is nothing but manifest sorcery." And they say, "Why has no angel been sent down to him?" If We had sent down an angel, their fate would have been decided long before this and they would have been given no respite after this; for if We had sent an angel, We would have sent him in human form and thus involved them in the same doubt in which they are involved now.


[10-11] O Muhammad, many Messengers before you have also been ridiculed, but in the long run those who mocked were overpowered by the very thing they had mocked. Say to them, "Just travel in the land and see the end of those who treated the Truth as false."

[12] Ask them, "To Whom belongs all that is in the heavens and the earth?" Say, "To Allah, Who has prescribed mercy and generosity for Himself: (that is why He does not catch hold of you immediately at your first disobedience). He will, however, certainly muster all of you on the Day of Resurrection. There is no doubt about this; yet those who have made themselves liable to ruin, do not believe in this."



[13-16] All that lies in the darkness of the night and in the light of the day belongs to Allah, and He hears and knows everything. Say, "Should I take as my guardian any other than Allah? Should I forsake that Allah Who is the Creator of the earth and the heavens and Who nourishes all and does not stand in need of nourishment from anyone?" Say, "I have been enjoined to be the first of those who surrender to Him, (and I have been urged) not to be of those who commit shirk" Say, "I do fear the torment of a (dreadful) Day, if I should disobey my Lord." He, who will be delivered from the torment of that Day, will have received Allah's mercy, and this is a great success.


[17-18] If Allah afflicts you with an evil, there is none other than Him to relieve you from this, and if He bestows some good on you, (know that) He has power over everything. He has supreme authority over His servants and He is All-Wise, All-Aware.



[19-21] Ask them, "Whose testimony is the most reliable?" Say "Allah is witness between me and you (that I am His Messenger), and this Qur'an has been revealed to me so that I should thereby warn you and all whom it may reach. What, will you really testify that there are other deities besides Allah?" Say, "As for me, I will never testify such a thing." Say, "Indeed, He alone is the Deity and I feel disgusted with the shirk you practice." Those, to whom We have given the Book, recognize this with as much certainty as they recognize their own sons. But those, who have made themselves liable to perdition, do not believe in this. And, who can be more unjust than the one who brings false allegations against Allah or denies Allah's Signs? Indeed, such unjust people can never attain to true success.



[22-24] On the Day, when We muster them all together, We shall ask the mushrikin, "Where are now your associates whom you had taken for your deities?" Then they shall not be able to play any other trick (than make this false statement): "We swear by You, our Lord, we were not at all mushrikin." Behold, how they will invent a lie against themselves and how all the false gods, they had forged, will forsake them!





[25-30] There are some among them, who (pretend to) listen to what you say, but they do not understand it, as We have cast veils over their hearts; We have made them hard of hearing (so they are deaf to what they hear). Even if they see any Sign, they will not believe in it; so much so that when they come and contend with you, those, who have already made up their minds not to believe (after hearing all), say, "This is nothing but the same old story." They forbid other people to believe in this Truth, and themselves turn away from it. (They imagine that in this way they are doing you some harm), whereas they are preparing their own perdition, though they do riot perceive it. Would that you could see their condition at the time, when they will be made to stand before Hell! They will say, "Would that we could somehow return to the earthly life again: then we would not deny the Signs of our Lord, and would join the Believers." As a matter of fact, they will say this because the Reality which they had concealed before this, will have appeared manifest before them. But the fact is that even if they were sent back to the earthly life, they would do all that they had been forbidden to do. They are liars (that is why they will give vent to such a false wish). Today they say, "There is no other life than this our worldly life, and we shall never be raised back to life after our death." Would that you could witness the scene, when they will be brought before their Lord: then their Lord will ask them, "Is this not the Reality?" They will say, "Yes, our Lord, this is the Reality." Then He will declare, "Well, taste the torment for denying this Reality."


[31-32] Losers indeed are those who consider it a lie that they will ever have a meeting with Allah. When the Hour overtakes them unawares, they will exclaim, "Alas! how negligent we have been of this matter!" and they will be carrying the burdens of their sins on their backs: behold, how heavy is the burden they are carrying! This worldly life is but a sport and pastime. In fact, the abode of the Hereafter is better for those who desire to be safe from harm. Will you not, then, use your commonsense?




[33-36] O Muhammad, We know that what they say, grieves you, but it is not you whom they charge with falsehood; these wicked people are, in fact, denying the Revelations of Allah. Many Messengers before you have also been treated as impostors, but they bore with fortitude the charge of imposture and persecution (by the disbelievers), till Our help came down to them. None has the power to change the Law of Allah and you have already received the news of what happened to the Messengers before you. However, if you find it hard to bear their aversion, then seek out, if you can, an opening into the earth, or set up a .ladder to the sky so that you may bring them a Sign. Had Allah willed, He would have gathered them all on guidance; so do not behave like the ignorant people. Only those, who listen to it, accept the Message; as for the dead, Allah will raise them from the graves only and they shall be brought back (to be produced in His Court).




[37-41] These people ask, "Why has no Sign been sent down to this Prophet from his Lord?" Say, "Allah is able to send down a Sign, but most of these people do not understand the wisdom underlying it." As regards Signs, just have a look at any of the beasts that move upon the earth and at any of the birds that fly in the air: they too are species like you. We have left out nothing in pre-determining the courses of their lives: then ultimately they are all gathered to their Lord. But those, who deny Our Signs, are deaf and dumb, dwellings in many sorts of darkness; Allah lets go astray whom He wills and guides to the Right Way whom He pleases. Ask them to consider deeply and answer, "When some great misfortune befalls you, or the last hour approaches you, do you invoke any other than Allah? Answer, if you be in the right." At that time you invoke Allah alone: then, if He pleases, He averts the affliction from you, and on such occasions, you forget those whom you had set up as His partners.




[42-45] We sent Messengers before you to many peoples and afflicted them with calamities and misfortunes so that they might bow down before Us with humility. Why did they not then humble themselves when Our scourge overtook them? Instead of this, their hearts were hardened all the more and Satan made, what they were doing, seem fair to them. After this when they forgot the Admonition that was given them, We opened the gates of every kind of prosperity for them; so much so that they were deeply absorbed in enjoying what was given to them. Then We seized them all of a sudden, and they were in a state of utter despair. Thus the transgressors were totally uprooted, and Allah, the Lord of the universe, be praised (that He uprooted them).




[46-49] O Muhammad, ask them, "Have you ever considered this: If Allah were to take away your hearing and your sight and set a seal upon your hearts, is there a deity other than Allah to restore them to you?" Behold! how We present Our Signs before them over and over again, and how they turn away from them in disdain. Say, "Have you also ever considered this: If the scourge of Allah comes upon you suddenly or openly, shall any but the transgressors be destroyed? For We send Our Messengers only to give good news to the righteous people and to warn the evil-doers: then those, who accept their Message and reform their own conduct, will have no cause for fear and sorrow and those who treat Our Revelations as false, shall have to suffer punishment in consequence of their evil deeds.

[50] Tell them, O Muhammad, "I do not claim that I possess the treasures of Allah nor that I know the "unseen", nor do I claim that I am an angel. I only follow the Revelation that is sent down to me." Then ask them, "Can the blind man and the seeing man be alike? Do you not consider this thing?"



[51-53] And, O Muhammad, admonish with this (knowledge based on Revelation) those, who fear that one Day they shall be brought before their Lord in such a state that they will find none other than Allah (with competent powers) as protector or intercessor: it may be that (by this admonition) they adopt the God-fearing attitude. And do not drive away those who invoke their Lord morning and evening and are engaged in seeking His favor. You are not in any way accountable for them, nor are they in any way accountable for you: so, if you should drive them away, you shall be counted among the unjust. As a matter of fact, in this way We have made some of them a means for testing the others, so that, seeing them, they should say, "Are these the people from among us upon whom Allah has showered His blessings?" Yes: does not Allah know His grateful servants better than they?


[54-55] When those, who have believed in Our Revelations, come to you, say to them, "Peace be upon you: your Lord has prescribed for Himself mercy and compassion. (It is His compassion that) He forgives and treats with leniency anyone who commits an evil through ignorance and then repents and mends his ways." In this way, We make Our Signs clear and plain so as to expose the way of the guilty ones.







[56-62] O Muhammad, say, "I have been forbidden to worship those, whom you invoke beside Allah. " Say, "I will not follow your wishes for if I did that I should have gone astray, and would not be of the right guided. " Say, "I take my stand on a clear proof from my Lord, and you have rejected it. Now, that which you demand to be hastened is not in my power, for Allah alone has the sole authority of passing judgment: He declares the Truth and He is the best of arbiters" . Say, "Had I the power to hasten that which you are demanding, the dispute between you and me would have been settled long before this, but Allah knows best how to deal with evil-doers. He alone has the keys of the "unseen", of which none has the knowledge but He. He knows all that is in the land and in the sea; there is not a leaf that falls from a tree but He knows about it; there is not a grain in the darkest bowels of the earth of which He is not aware; everything fresh and dry has been recorded in an open Book. It is He Who recalls your souls at night and knows what you do during the day; then next day He returns you to your usual work to complete the fixed term of your life. At long last, you shall all return to Him and He will let you know what you had been doing. He reigns supreme over His servants and appoints those, who keep watch over you till the time the death of anyone of you approaches; then the angels sent by Him take away his soul and do not show the least negligence in the performance of their duty. Then all are brought back to Allah, their real Master. Beware of it that the sole authority of passing judgment rests with Him alone and He is the swiftest at reckoning."


[63-64] O Muhammad, ask them, "Who rescues you from perils in the darkness of the land and sea? Who is He Whom you implore humbly and invoke secretly (at the time of affliction)? To whom do you make this promise: `We will be grateful if you rescue us from this affliction'." Say, "Allah delivers you from that and every other affliction; yet you associate other partners with Him."



[65-67] Say, "He has the power to bring a scourge on you from above you or from beneath your feet or to split you into discordant factions to make you taste the violence of one another. " Behold! how We present Our Signs over and over again in different ways before them so that they should understand the Reality. Your people are rejecting it (the Qur'an), although it is the Truth. Say, "I have not been made a supervisor over you. Every event takes its prescribed time to appear; and, by and by, you yourselves shall see the consequences."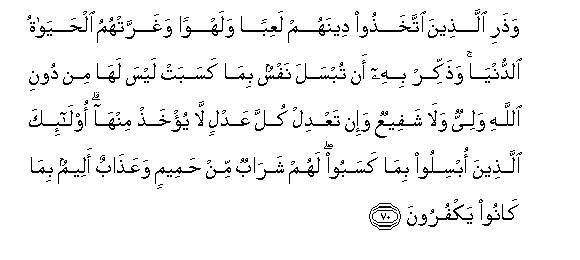 [68-70] And, O Muhammad, when you see that people are finding fault with Our Revelations, withdraw from them till they get engaged in some other talk; and, if ever Satan causes you to forget this, quit the company of such unjust people when you realize your mistake. Though the pious people are not in any way accountable for them, yet it is their duty to admonish them; perhaps they may refrain from their evil ways. And leave alone those who have taken their faith as a sport and pastime and have been deluded by the life of this world; nevertheless, go on admonishing them by reciting the Qur'an to them lest any person should be seized because of his own deeds, and that too at the time, when there would be no protector, no helper and no intercessor to rescue him from Allah, and when no conceivable amount of ransom would be accepted from him; this is because such people shall be seized in consequence of what they themselves had earned; they shall get boiling water to drink and a painful torment to suffer for their rejection of the Truth.



[71-73] O Muhammad, ask them, "Should we invoke, instead of Allah, those, who can neither benefit us nor harm us? And should we turn upon ow heels after Allah has shown us the Guidance? Should we put ourselves in the sad plight of the man, whom the satans have misled to wander over the desert in a bewildered state of mind, while his companions are calling aloud, `Come to us: here is the right way'?" Say, "In fact, the right guidance is the Guidance of Allah and He has enjoined us to surrender to the Lord of the universe and establish the Salat and refrain from His disobedience; you shall all be gathered unto Him. It is He Who created the heavens and the earth in all truth, and there shall be Resurrection the day He says, "Be." His word is the very truth and on the Day, when the Trumpet is blown, His shall be the sole Sovereignty. He has full knowledge of the visible and the invisible and He is All-Wise, All-Knowing."








[74-82] And remember the incident when Abraham said to his father, Azar, "Do you take idols for deities? I see that you and your people are in manifest deviation." And We showed to Abraham the phenomena of the Kingdom of the heavens and the earth in the manner (that follows) so that he may become one of the firm believers. Accordingly when the night outspread over him, he saw a star and said, "This is my Lord." But when it set, he declared, "I cannot love those that set." Afterwards when he saw the moon shining, he said, "This is my Lord." But when it also set, he cried, "If my Lord had not guided me, I, too would have been of those who had gone astray." Then, when he saw the sun shining brightly, he said, "This is my Lord. This is the largest of all." But when this also set, he exclaimed. "O my people, I have nothing to do with those whom you set up as partners with God. As regards me, I have turned my face in exclusive loyalty and worship towards that Being Who has created the earth 'and the heavens and I am not at all of those who associate partners with Allah." And when his people began to argue with him, he said to them, "Do you argue with me in regard to Allah, whereas He has shown Guidance to me? And I do not fear those whom you have taken for gods: except that it be my Lord's will, for if my Lord wills anything it must happen. The knowledge of my Lord embraces everything. Will you not, then, remember this and come to your senses? And there is no reason why I should fear those whom you have made partners with Allah, when you are not afraid of setting up those things as partners in Godhead for which He has sent no authority to you. Then tell me, if you have any knowledge: which of the two parties merits peace and freedom from fear? As a matter of fact, they alone, who have believed and not polluted their Faith with shirk, have peace and are rightly guided."

[83] This was Our argument which We bestowed upon Abraham against his people. We raise whom We will to exalted ranks; indeed your Lord is All-Wise, All-Knowing.




[84-87] Then We bestowed upon Abraham descendants like Isaac and Jacob, and showed each of them the Right Way, (the same Right Way that) We had shown to Noah before them; and (We bestowed Guidance upon ) David, Solomon, Job, Joseph, Moses and Aaron from among his descendants. Thus, We reward the righteous people for their good deeds. And (from among his descendants, We showed Guidance) to Zachariah, John, Jesus, and Elias, each of whom was an upright man. And (We showed the Right Way) to Ishmael, Elisha, Jonah and Lot (who were his offspring). And We exalted everyone of them over all the people of the world and showed favors to many of their forefathers and their descendants and their brethren and chose them for Our service and guided them aright.



[88-90] This is Allah's Guidance by which He guides anyone of His servants He pleases: but if any of His people had ever practiced shirk, all the good deeds they had done would have been rendered vain. Such were the people on whom We bestowed the Book, the Judgment and the Prophethood. Now, if these people do not believe in it (it does not matter); We have bestowed this favor upon others who are not ungrateful to it - O Muhammad, those were the people who were rightly guided by Allah; so you should also follow their way and say, "I ask no recompense from you for showing this (Guidance); this is an admonition to all the people of the world."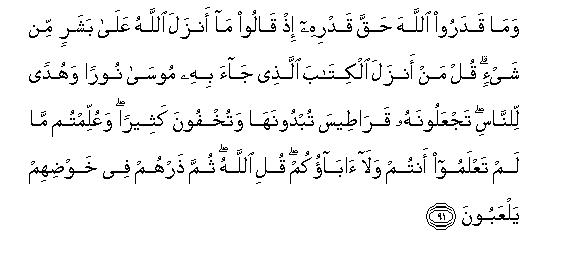 [91-94] Those people formed quite a wrong estimate of Allah, when they said, "Allah has not sent down anything to any man." Ask them: "Then who sent down the Book, which Moses brought: which was Light and Guidance for mankind: which you have divided into fragments, a part of which you show to the people and most of it you hide from them: by which you were given that knowledge which neither you nor your forefathers possessed?" -- Just say, "Allah", and then leave them alone to play with their useless arguments. (Like that Book) this is a Book which We have sent down; it is a blessed Book, it confirms that which was sent down before it, and this has been sent down so that you should warn the people of this central place (Makkah) and those who dwell around it. Those, who believe in the Hereafter, believe in this Book, and observe their prescribed Prayers punctually. And who could be more wicked than the one who invents a falsehood about Allah or says, "A Revelation has come to me," whereas no Revelation has come to him, or says, "I will also send down the like of what God has sent down?" Would that you could see these wicked people, when they are in the agonies of death, and the angels are out-stretching their hands and saying, "Come, yield up your soul; today you shall be awarded a disgraceful torment for the false things you attributed to Allah and for the rebellion you showed against His Revelations." (And Allah will add,) "So, you have come before Us all alone, as We created you at first. Now, you have left behind all that We gave to you in the world; and now We do not see with you those intercessors who, you believed, had a share in molding your destinies: all the relations between you have been cut off, and all those, in whom you trusted, have left you in the lurch."


[95-96] Allah is the splitter of the seed grain and the fruit stone; it is He Who brings forth the living from the dead and the dead from the living. It is Allah Who does all these things: where, then, are you being misled? He causes the dawn to appear out of the curtain of the night; it is He Who has ordained the night for rest and determined the time of the rising and the setting of the moon and the sun: all these things have been determined by the same All Powerful and the All Wise One.






[97-103] And it is He Who has set up the stars for you so that you may find your way in the deep darkness of the land and sea. Behold! We have made Our Signs clear for those who possess knowledge. And it is He Who created you from one single soul and provided for each of you a dwelling place and a repository. We have made these Signs clear for those who are men of understanding And it is He Who sent down rain-water from the sky and thereby caused every kind of vegetation to grow, and then with it produced green fields and trees and from them brought forth close growing grain and from the blossoms of palm-trees brought forth laden sheaths of clustering dates and vineyards and olive groves and gardens of pomegranates : though their fruits resemble each other yet each has its distinctive quality. Behold how they bring forth fruit and how their fruits ripen. for there are indeed Signs in these things for those who believe. Yet they set up the Jinn as partners with Allah, whereas He is their Creator; they have also invented for Him sons and daughters without having any knowledge whereas He is absolutely free from and exalted far above the things they say. He is the Originator of the heavens and the earth: how should He have a son, when He has no consort? He has created everything and He has the Knowledge of everything. This then is, Allah, your Lord; there is no deity but He is the Creator of everything : so worship Him alone, for He is the Guardian of all things, No sight can comprehend Him but He comprehends all sorts of sight, for He is All-Comprehensive and All-Aware.

[104] Behold: Lights of discernment have come to you from your Lord: now, whoever makes use of his sight, will do so to his own good, and whoever behaves like a blind person will do so to his own harm; I am not a keeper over you.




[105-108] Thus do We state Our Revelations over and over again indifferent ways so that the disbelievers might say, "You have learned these (not from Allah but) from someone else;" and so that We may make the Reality plain to those who have knowledge. Therefore, O Muhammad, go on following what has been sent down to you from your Lord, for there is no god besides that One Lord, and leave these mushrikin alone. Had Allah willed (He Himself could have so arranged that), they would not have committed shirk. And We have not appointed you a keeper over them, nor have you been made their guardian. And (O Believers), do not revile those whom they invoke besides Allah lest they should, in their ignorance, revile Allah (besides committing shirk). We have thus made the deeds of every people seem fair to them. Ultimately, they shall have to return to their Lord; then He will let them know what they have been doing.




[109-113] They declare with solemn oaths by Allah that if a Sign (i.e. a miracle) comes before them, they will believe in it (your Prophethood). O Muhammad, tell them, "Allah alone can show Signs." And what will make you (O Muhammad) realize that, even if the Signs come, they would not believe? And We are turning away their hearts and eyes from the Truth because of that attitude of theirs which prompted them to disbelieve in the first instance, so We leave them to wander about in their rebellion. Even if We had sent down angels to them and made the dead to speak with them and ranged all the things of the world before them (as a proof thereof), they would still not have believed unless it were Allah's will that they should believe, but most of them talk nonsense. And so have we always set against every Prophet enemies from among satans of men and satans of jinns who have been inspiring one another with charming things in order to delude the minds. But, had your Lord willed, they would never have done so. So leave them alone to continue their false allegations. (We have been allowing them to do all this) so that the hearts of those who do not believe in the Hereafter might be allured (by this charming delusion) and they be well pleased with it, and that they might earn the evils they wish to earn.


[114-115] This being so, should I seek a judge other than Allah. whereas He has sent down to you the Book with full details? And the people whom We gave the Book (before you) know that this Book has been sent down to you with the Truth from your Lord; so you should not be of those who have doubts The Word of your Lord is perfect in regard to Truth and justice; there is none who can make any change in His decrees for He hears everything and knows everything.


[116-117] And O Muhammad if you obey most of the dwellers of the earth, they will lead you astray from Allah's Way, for they follow nothing but guess-work and indulge in mere conjectures. In fact, your Lord knows best those who have gone astray from His Way and also He knows those who are on the Right Path.


[118-119] Then you should eat the flesh of the animal over which Allah's name has been mentioned, if you sincerely believe in His Revelations. And why should you not eat that thing over which Allah's name has been mentioned when He has already given you explicit knowledge of those things which He has forbidden for you, except in a case of extreme helplessness? as As regards the majority of the people, they, following their caprices, say misleading things without any knowledge. Your Lord best knows these transgressors.


[120-121] And refrain from open sins as well as secret sins: surely those who earn sin shall get the recompense of what they have earned. And do not eat the flesh of the animal over which Allah's name has not been mentioned at the time of slaughter; this indeed is sinful. The satans put doubts and objections into the minds of their friends, so that they should dispute with you, but if you obey them, you are surely mushrikin.


[122-123] Can that person, who was first dead, then We gave him life and bestowed upon him the light by which he is able to walk on the right way among the people, be regarded like the one who is blundering about in deep darkness and will not come out of it? Thus have been made seem fair to the disbelievers their deeds and thus have We placed in every habitation the ringleaders of the wicked people to spread the snare of their vile schemes; in fact, they themselves get entangled in the snare of their vile devices but they do not perceive it.

[124] When a Revelation comes before them, they say, "We will not believe in it unless we are given the like of what has been given to the Messengers of Allah." Allah knows best whom to entrust with His Mission and how to get it conducted. - Near is the time when these criminals shall meet with disgrace and a grievous torment from Allah for the evil schemes they were devising.



[125-127] So (the fact is that) whomsoever Allah wills to guide aright, He makes his breast wide open to Islam, and whomsoever He wills to let go astray, He makes his breast narrow and squeezes it so tight that (at the very idea of Islam) he begins to feel as if his soul were climbing up towards the sky. Thus Allah sets the impurity (caused by their deviation from the Way of Islam) over those who do not believe, whereas this Way is the Straight Way of your Lord, and We have made its signs quite clear for those who are amenable to advice. There is an abode of peace for them with their Lord, and He is their Protector because of the good works they are doing.


[128-129] On the Day when He will encircle and muster them all together, addressing the jinn, He will say, "O race of jinn, you have exploited fully the human race." And their associates from among the human race will answer, "Our Lord, we both have exploited each other fully, and now we have reached the end of our term which You had fixed for us." Then Allah will say, "Well! now the Fire is your abode wherein you shall abide for ever." Only those, whom Allah will deliver, shall escape from it. No doubt your Lord is All Wise, All-Knowing. Behold, in this way We will make (in the Hereafter) the wrongdoers the comrades of one another because of what they earned (in the world with mutual co-operation).

[130-131] (On that occasion Allah will ask them this question also:) "O race of jinn and men, did not the Messengers come to you from among yourselves, who recited My Revelations to you and warned you of the consequences you shall meet with on this Day?" They will reply, "Yes, they did. We bear witness against ourselves. " Today this worldly life has deluded them, but at that time, they will themselves bear witness against their selves that they were disbelievers. (This testimony will be taken from them in order to prove that) your Lord would not destroy the habitations unjustly, while their dwellers were ignorant of the Reality.




[132-135] The grade of everyone (for recompense) is determined in accordance with his deeds: and your Lord is not unaware of the deeds of the people. Your Lord is All-Sufficient and is full of compassion. If He wills, He may remove you and replace you by whomever He wills, just as He raised you from the offspring of other people. Indeed, the thing which you are being promised shall most surely come; and you have no power to frustrate Allah. O Muhammad, say, "O people, you may do whatever you like in your own way and I am doing whatever I deem right; but you shall soon know who comes out successful in the end; anyhow the fact is that the workers of iniquity can never attain true success."

[136] These people have assigned a portion to Allah out of the tillage and the cattle He Himself has created, and say, "This is for Allah," so presume they "and this is for the partners we have set up with Him." Then the portion assigned to the partners of their own making does not reach Allah, but that assigned to Allah reaches the partners set up by them. What evil decisions they make!

[137] And likewise, those whom the mushrikin believe to have a share in Allah's Godhead have made the killing of their own children seem fair to them in order to lead them to ruin and confuse them in their religion. Had Allah willed, they would not have done so; therefore, leave them busy in their false accusations.

[138] They say, these cattle and crops are reserved; only those people can eat them, whom we allow. In fact, this is a restriction they themselves have imposed. Then there are some animals which have been forbidden for riding and carrying loads, and there are other animals over which they do not pronounce the name of Allah. They have falsely attributed all this to Allah before long Allah will recompense them for all that they have falsely attributed to Him.

[139] And they say, "Whatever is within the bellies of these cattle is reserved for our males and forbidden to our females, but if it is dead, both may partake of it. Allah will surely recompense them for the things they have fabricated; indeed, He is All Wise, All Knowing.

[140] Most surely they became losers, who, in their folly and ignorance killed their own children, and made unlawful what Allah had provided them as sustenance falsely ascribing prohibitions to Allah. Surely they went astray and were not at all rightly guided.




[141-144] It is Allah, Who has produced gardens of upright trees and vineyards and date-palm trees; Who has made the crops to grow, which yield different kinds of edibles; Who has produced olive and pomegranate trees, whose fruits are similar in shape yet differing in taste. Eat of their fruits, when they bear fruit, and give away Allah's due at the harvest time, but do not transgress the limits, for Allah does not like the transgressors. And it is He Who has created from among the cattle, beasts of burden and beasts for riding, and also those whose flesh you eat and whose skins you use for making beds; therefore eat of those provisions that Allah has given you and do not follow in the footsteps of Satan for he is your open enemy. Here are eight kinds of cattle - males and females. Take first a pair of the sheep family and a pair of the goat family, and O Muhammad, ask them, "Has He of these forbidden you (to partake of) the males or the females or the young ones that are in the wombs of the sheep and the goats? Tell me with knowledge, if you are men of truth. Likewise, take a pair of the camel family and a pair of the cow family, and ask them, "Has He of these forbidden the males or the females or the young ones that are in the wombs of the she-camel and the cow?" Were you present at the time when Allah prescribed these prohibitory laws? (If not), who can then be more wicked than the one, who invents a falsehood and ascribes it to Allah so that he should, without knowledge, mislead the people? Indeed, Allah does not show guidance to such transgressors.



[145-147] O Muhammad, say to them, "I do not find in what has been revealed to me anything forbidden to an eater to eat except that it be carrion or the blood that has been shed or the flesh of swine, for it is unclean, or flesh of an animal that has become profane because of having been slaughtered in any other name than that of Allah. But if one is forced in a case of certain helplessness.(to eat any of these) without any intention of disobedience, and without transgressing the limit of absolute necessity, (he will find that) your Lord is Forgiving and Merciful." And We prohibited to those people, who had adopted Judaism, all animals with claws and the fat of oxen and goats except what is on their backs or their entrails or what sticks to their bones; this was the punishment We had inflicted on them for their rebellion. And We are telling the truth. Now if they belie you, say to them, "Your Lord has limitless mercy: but His punishment cannot be warded off from the criminals."


[148-149] (In reply to these things of yours) the mushrikin will surely say, "Had Allah willed, neither we nor our forefathers would have committed shirk, nor would have we made anything unlawful. Likewise the people before them had treated the truth as falsehood by such (absurd) excuses until they tasted Our scourge. Say to them, "Have you any knowledge that you can produce before Us in support thereof? You are following nothing but conjecture and making false presumptions." Then say, ("In contrast to your lame excuse,) Allah's argument is conclusive: had Allah so willed, He would surely have shown guidance to all of you."

[150] Say to them, "Produce your witness who can testify that Allah has forbidden all this." But, even if they testify, you should not bear witness with them. And you should never follow the desires of those, who have treated Our Revelations as false and who do not believe in. the Hereafter and who set up others as equals with their Lord.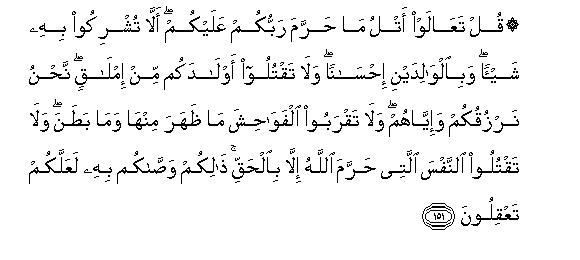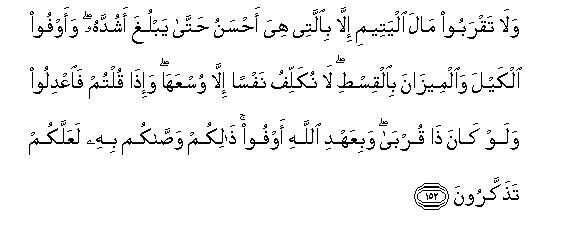 [151-153] O Muhammad, say to them, "Come, I will recite what limits your Lord has set for you." (He has enjoined:) (1) That you should not set up anything as a partner with Him, (2) and you should treat your parents kindly, (3) and you should not kill your children for fear of poverty, for We provide sustenance for you and will provide sustenance for them also, (4) and you should not go near indecent things whether they be open or hidden, (5) and you should not kill any living being whom Allah has forbidden to kill except by right. These are the things which He has enjoined on you: it may be that you use your common sense. And He has enjoined:(6) that you should not go near the property of an orphan except in the best way,' until he reaches his maturity.(7) and you should use a full measure and a just balance. We charge one only with that much responsibility that one can bear, (8) and whatever you say should be just, even if it is concerning your own relatives,(9) and you should fulfill your covenant with Allah. Allah has enjoined these things on you so that you may follow the admonition.(10) And Allah also enjoins: "This way alone is My Right Way; therefore you should follow this Way and should not follow other ways lest they should lead you astray from His Way. This is what Allah has enjoined on you so that you may avoid crooked ways.


[154-155] Then,We had given to Moses the Book to complete the blessing for those who adopted the righteous attitude; it contained details about all important things, and was a perfect guidance and mercy. (And it had been given to the children of Israel so that) the people might believe in the (ultimate) meeting with their Lord. And likewise have We sent down this Book, which is a perfect blessing; so follow this and adopt the God fearing attitude so that mercy may be shown to you.



[156-158] Now you cannot say, "The Book was sent down to the two communities before us, and we were unaware of what they studied and taught. " And now you cannot put forward even this excuse: "If the Book had been sent down to us, we would have proved ourselves more righteous than they." Now that a clear proof and Guidance and Blessing, has come to you from your Lord, who can be more unjust than the one who treats Our Revelations as false and turns away from them? We will inflict the severest torment on those who turn away from Our Signs because of their aversion. Do the people now wait that the angels should come down before them, or that your Lord may Himself come down, or that manifest Signs of your Lord should appear? On the Day when some clear Signs of your Lord will appear, his faith shall not profit the man who did not believe before or who, while professing to believe, did not do good deeds. O Muhammad, say to them, "Well, you may wait if you will: We, too, will wait."


[159-160] You have nothing to do with those who have split up their religion and become sects. Their case rests with Allah, and He Himself will let them know what they have done. He, who will bring a good deed before Allah, will receive a tenfold reward for it, and he, who will bring an evil deed, shall receive only that much punishment which he deserves, and no one will be treated unjustly.




[161-165] O Muhammad, say, "As for me, my Lord has most certainly guided me on the Straight Way, the ever True Faith, Abraham's Way which he had adopted exclusively and whole-heartedly and he was not of mushrikin." And declare, "My Salat and my rites of worship and my life and my death, all are for Allah, the Lord of the universe, Who has no partner with Him. This is what I have been enjoined, and I am the first to surrender to Him." Say, "Should I seek another Lord beside Allah when He is the Lord of everything? Every person is himself accountable for what he earns, for no bearer of burden bears the burden of another. Ultimately, you shall all have to return to your Lord: then He will tell you the reality of that about which you differ. It is He, Who has made you the vicegerents on the earth, and raised some of you above others in ranks so that He may test you in what He has given you. Indeed your Lord is swift in inflicting punishment: yet He is also very Forgiving and Merciful."